Access Montessori is a resource for communities to establish Montessori Birth-to-Six Family Community Centers.
A Montessori Family Community Center is a much needed response to the increasing awareness of the importance of providing educational, health and social services to families in the underserved communities of our nation. Based on the foundation of more than 100 years of experience in bringing Montessori education to children all over the world, Montessori educators are well suited to expand the educational opportunities to children and families who have traditionally lacked access – those in our poorest urban and rural communities.
By bringing Montessori education and parent support services to families in the context of a community center, we have an opportunity to significantly impact the lives of our most at-risk children. The Montessori Family Community Center engages the family and collaborates with other health and social service providers to meet the needs of children during that first critical six years of their lives.
---
News
Gathering at AMI-USA Refresher Course:
Please join Access Montessori and the Montessori Birth-to-Six Community for an informal, no-host
breakfast at the restaurant at the Westin Long Beach Hotel on Sunday, February 14th. We will meet
outside the restaurant at 7:30 am.
We look forward to catching up and sharing our work to support Montessori programs in underserved
communities across the country.
Please rsvp to Jacquie Maughan at Jacquie.maughan@gmail.com if you plan to join us or text me at 206-
478-0406.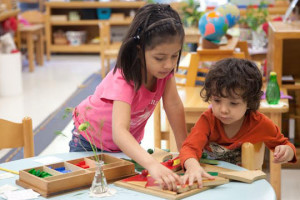 A great social mission that will ensure the child justice, harmony, and love remains to be accomplished. And this great task must be the work of education, for this is the only way to build a new world and to bring peace.
—Dr. Maria Montessori