Practical Lessons for Educating Human Potential
Maria Montessori was among the earliest educational reformers to identify the first plane of development (Birth-6) as critical to establishing core social, emotional, physical and intellectual capacities. As Montessori's emphasis on the early years is increasingly validated by contemporary science,[1] excellent Montessori education has also been shown to ameliorate the social and educational effects of poverty by attending not just to children, but to the entire family[2]. The Following the Family project is an examination of how that process works. Conducted by Jacqueline Cossentino and funded by the Trust for Learning, the study, which will soon be a book, was designed, in part, to inform the development of future Montessori Family Centers.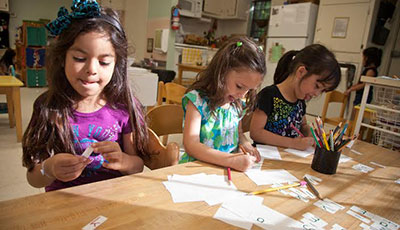 The concept of the Montessori Family Center is grounded simultaneously in Montessori's historic commitment to releasing human potential through profound respect for the developing child and more recent programming that harnesses Montessori theory and practice in service to children and families in vulnerable communities. Following the Family tells the stories of four such programs; their origins, the manner in which they have engaged children, families and their surrounding communities, and the lessons they offer for early childhood education leaders and practitioners, parents, indeed anyone who cares about the future of our communities.
Each program is grounded in Montessori principles of concentration, independence, respect, and community, and all are emphatically committed to serving families in some of the nation's most vulnerable communities. Three of the four programs have track records that span a quarter century. All provide seamless programming from before birth through to at least the age of 6. All operate through a blend of public and private funding. And all report remarkable results.
In addition to telling the individual stories of each of these programs, Following Family reports generalizable lessons. These lessons, it turns out, all revolve around relationships. Those relationships exist in networks, dyads, triads, webs within webs. In parent and child, teacher and child, teacher and family, family to family, organization to community.
Programs:
Lumin Education: The Steady Work of Social Justice
Family Star: Neighborhood Nexus
Crossway Montessori Communities: Montessori as a Family Intervention
Montessori Partners Serving All Children: A Hub of Expertise and Support

Footnotes:
Diamond, A., "The Evidence Base for Improving School Outcomes by Addressing the Whole Child and by Addressing Skills and Attitudes, Not Just Content." Early Education and Development, 2:780-793.; Lillard, A. S. (2005). Montessori: The science behind the genius. New York: Oxford University Press; Lillard. A.S. (2012). Preschool Children's Development in Classic Montessori, Supplemented Montessori and Conventional Programs. Journal of School Psychology, 50: 379-401; Lillard, A.S. & Else-Quest, N., "Evaluating Montessori Education,"Science 131:1893-94.
Whitescarver, K. (2012). Using Montessori to Break the Cycle of Poverty. Montessori International. London.